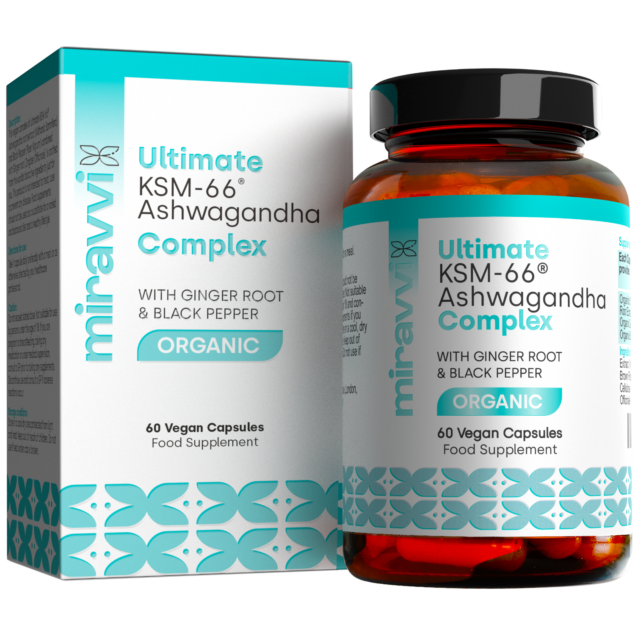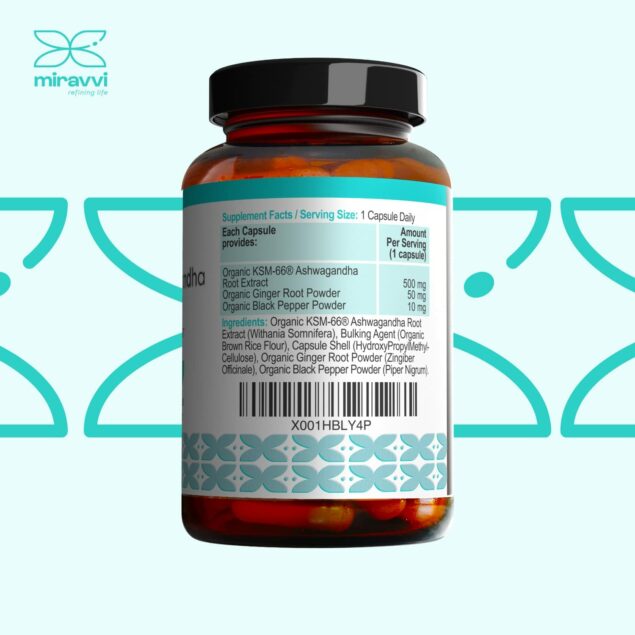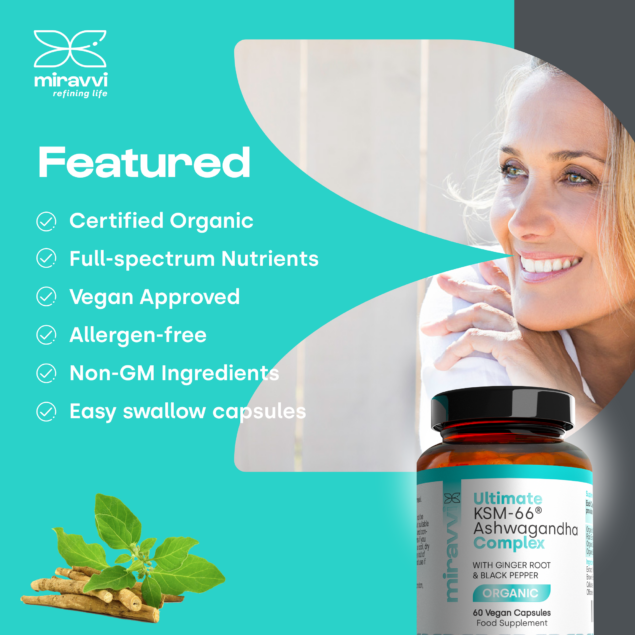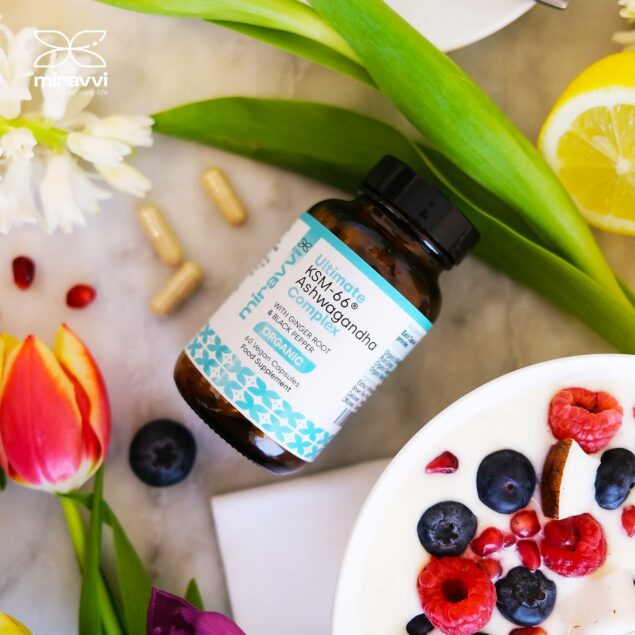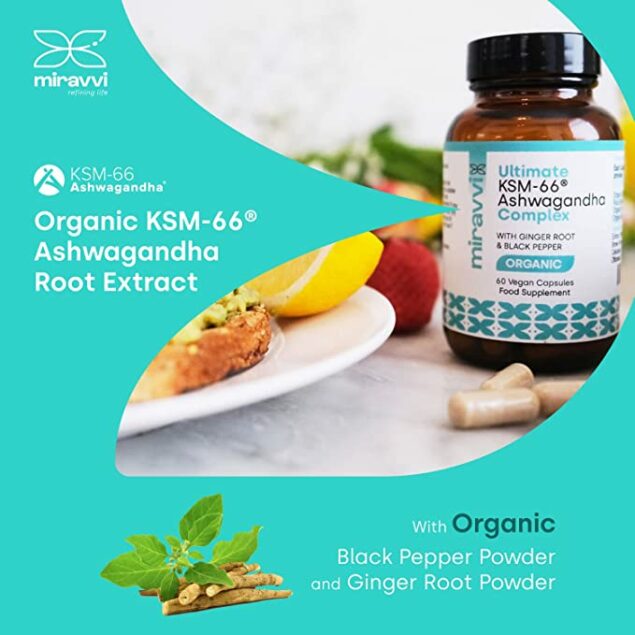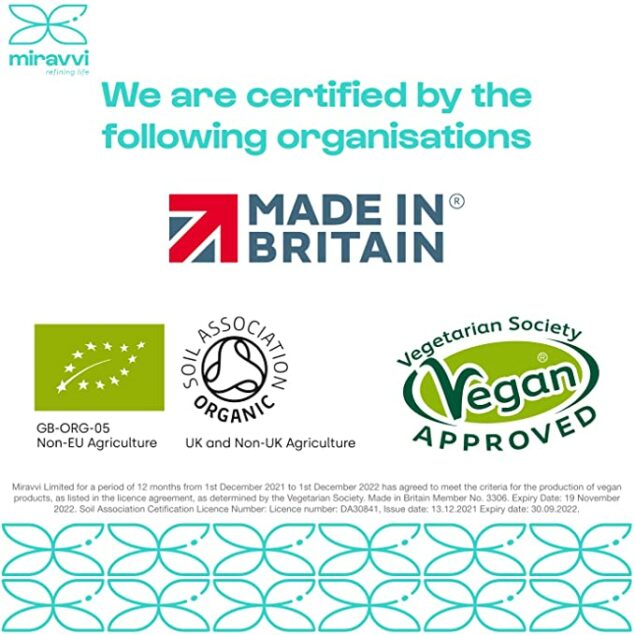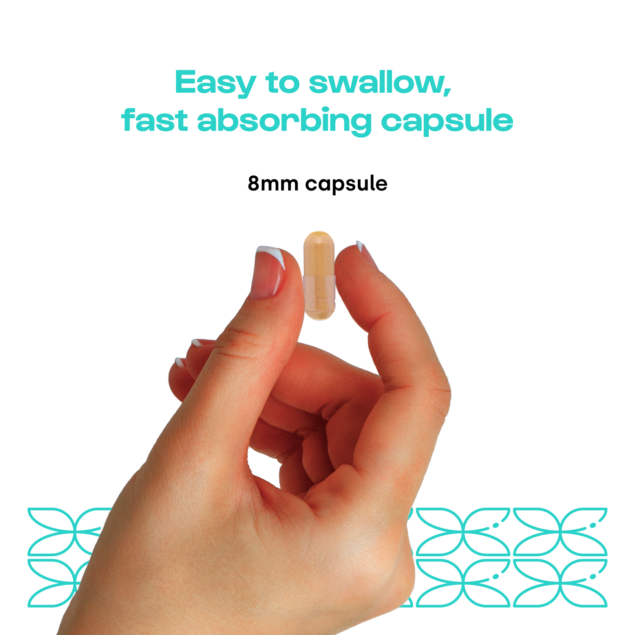 Ultimate KSM-66® Ashwagandha Complex
£18.99
The Ultimate KSM-66 Complex with the highest concentration and full-spectrum of Ashwagandha Root Extract on the market.
Certified Organic
Full-spectrum Nutrients
Suitable for Vegetarians & Vegans
Free from dairy, sugar, gluten, soya, wheat grains
Free from nuts, peanuts, mustard, sesame and derivatives
No Artificial Colours or Flavours
Non-GM Ingredients
Manufactured in the UK
Use code SAVE50 for 50% off until Sept 30th
PRO TIP: Take one capsule a day to boost your well being
Learn More
We have formulated a vegan complex of ingredients that work in harmony with each other and your body: Organic KSM-66 Ashwagandha Root Extract 500mg (Withania Somnifera) and Organic Black Pepper 10mg (Piper Nigrum) combined with Organic Ginger Root 50mg (Zingiber Officinale) is providing you maximum absorption to enhance the benefits and boost your wellbeing.
Featured
Certified Organic
Full-spectrum Nutrients
Suitable for Vegetarians & Vegans
Allergen-free
No Artificial Colours or Flavours
Non-GM Ingredients
Soil Association Certified Organic
We opted to make sure our ingredients, supply chain and manufacturing meets the high standards of the Soil Association. Soil Association standards set strict benchmarks for organic food production, packaging, animal welfare, wildlife conservation, residues, and additives to reassure the buying public over the quality of products labelled organic.
Vegan
Accredited by The Vegetarian Society: ALL our Vegan products are accredited by The Vegetarian Society, Non-GM Ingredients, Free from animal-derived ingredients, No cross-contamination during production, No animal testing carried out or commissioned. Capsules are HPMC, a plant-based cellulose material approved for vegetarians and vegans. Our products are free from allergens, preservatives, nuts, artificial colours or flavourings, gluten, wheat, lactose, added sugar or salt, milk, fish.
Manufactured in the UK
We are members of Made in Britain. Every miravvi product is manufactured in the UK, and to the very highest standards. The manufacturing facility for our products operate to the GMP standards, having gained BRC accreditation grade A for global food standards. The experienced laboratory team are on point with the very latest regulations and standards regarding the development of vitamin and supplement products.
Organic KSM-66® Ashwagandha Root Extract (Withania Somnifera)
Bulking Agent (Organic Brown Rice Flour)
Capsule Shell (HydroxyPropyl MethylCellulose)
Organic Ginger Root Powder (Zingiber Officinale)
Organic Black Pepper Powder (Piper Nigrum)
Each capsule provides
Organic KSM-66® Ashwagandha Root Extract 500 mg
Organic Ginger Root Powder 50 mg
Organic Black Pepper Powder 10 mg
Take 1 capsule daily preferably with a meal or as otherwise directed by your healthcare professional.
This product is not intended to treat, cure or prevent any disease.
Food supplements should not be used as a substitute for a varied and balanced diet and a healthy lifestyle.
Caution
Do not exceed stated dose.
Not suitable for use by persons under the age of 18.
If you are pregnant or breastfeeding, taking any medication or under medical supervision, consult a GP prior to taking any supplements.
Discontinue use and consult a GP if adverse reactions occur.
Storage Conditions
Store in a cool dry area protected from light and heat.
Keep out of reach of children.
Do not use if seal under cap is broken.